White Sewing Center
Presents:

The new universal sewing machine hook timing tool
Patent Pending
Only $59.95. Includes the timing tool kit, instruction book and free shipping.
Your favorite sewing machine just quit and that important project isn't finished. The sewing machine service technician says the timing is off and estimates a $100.00 to $200 repair cost. Oh, by the way, your sewing machine is scheduled for repair in two weeks and that wedding dress must be finished before Saturday.
OUCH!
Now you can own our new universal timing tool and time your own sewing machine in minutes. You can even use it in your own sewing machine repair service business. This tool is designed to time the hook on most Bernina, Elna, Kenmore, Necchi, Pfaff, Singer, Viking and many other household and industrial sewing machines. It comes complete with a 22 page instruction book.
NOTE: You must have some mechanical ability and be able to follow instructions in order to use this tool. We are not responsible for personal injury or damage to your sewing machine through failure to follow instructions.
The timing tool will save money the first time you use it.
FREE SHIPPING TO ANY USA ADDRESS
Click here to order the timing tool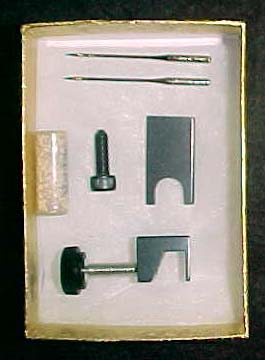 Click on images to view larger picture.


We accept US payments by checks, money orders, cashiers checks or US cash (at your risk). International payments (including Canada) are accepted by checks drawn on a US bank, postal money orders in US dollars or US cash (at your risk) .We do not accept paypal, or any other form of electronic payment. Please include your shipping address label with your payment for FREE SHIPPING. Please type or hand write the label exactly as you want your package addressed.

Payment may be mailed to:
White Sewing Center
3972 Highway O
Middle Brook, MO. 63656
Phone:573-697-5841

Shipping Information:
Include your address label with payment and receive:
FREE SHIPPING to any USA address. Other countries, please add US $10.00 for shipping.


FAQ
Question: Will the universal timing tool work on all sewing machines?
Answer: Our universal sewing machine timing tool will work on most household and industrial lock stitch type sewing machines. It will not work on sergers, blind stitch or other "special purpose" machines. Some late model "extra wide stitch width" machines may require a different gauge. We will provide (optional) special gauges, at low cost, for these "extra wide zig zag" machines at a future date.
Question: Will I be able to use the universal timing tool?
Answer: If you have some mechanical knowledge and the ability to read and follow instructions, you will be successful in using the timing tool.
Question: Why do you sell a two piece tool (gauge and clamp)?
Answer: A one piece timing tool has been available from the manufacturers and sold only to authorized sewing machine dealers. They are designed to be used to time a very limited number of sewing machines and can not be updated. We have found the tool is too large to fit many sewing machines and will require the purchase of a complete new timing tool kit for many makes/models of sewing machines. The reason for a two piece timing tool is to eliminate this needless expense. Our two part universal timing tool may be updated with the purchase of an additional, low cost, gauge, when required.
Question: I have a heavy duty industrial upholstery sewing machine. Will your timing tool work on it?
Answer: Our universal timing tool will work on most industrial sewing machines. Some large heavy duty industrial machines may require a larger clamp and guage. We will provide additional special accessories and instructions for these machines, at modest cost.

Feel free to contact me with any questions.
---
Contact me
Phone:

The best way to get a quick answer to your question.
Business 573-697-5841
Cell 314-712-7811

Please try both numbers, as I may be at either number.
---

Visit our website for more information.

Click here to order the timing tool
Click here to go back to the index.